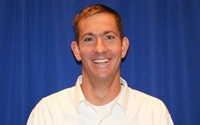 Kevin Scott – Lead Pastor / Elder
Kevin Scott is the founding pastor of The Stream. He has been in full-time ministry since 1994. He was born and raised in Cincinnati, Ohio and is a graduate of Purdue University with a double major in Dietetics and Nutrition, Fitness, and Health. While at Purdue, Kevin participated in campus ministries and was on the Purdue Men's Swim Team. After graduating from Purdue he served in college ministry for several years with Worldwide Discipleship Association at Purdue, at the University of Tennessee in Knoxville, and on mission trips to Kenya and Uganda in Africa. Kevin then went on to seminary at Trinity Evangelical Divinity School in Deerfield, IL and completed a Master of Divinity (M. Div.) degree, graduating with honors in 2002. After seminary, he and his family moved to Las Vegas to begin the process of starting The Stream.
In addition to serving as the lead pastor of The Stream, Kevin has also worked part-time since 2006 as a Pastoral Counselor at Renewing Life Center and has remained on staff with Worldwide Discipleship Association since 1994. In the summer of 2014, he established Pastor Kevin Weddings, to officiate wedding ceremonies and/or provide pre-marital counseling to couples who are in need of a wedding officiant and may not have a pastor. In the fall of 2014, Kevin also began swim coaching part-time with the Boulder City Henderson Heatwave swim team (BCH). Pastor Kevin is thrilled to be involved in the community and enjoys the opportunities God gives him to meet and serve people.
Kevin has been married to his wife Lauren for over 20 years and they have 3 children. He enjoys family time, swimming and competing in open water swimming races, coaching swimming, reading, the outdoors (especially beaches and national parks), worship music, and movies.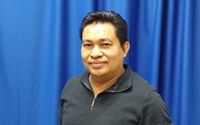 Harold Casaclang – Elder
Harold Casaclang is originally from the Philippines, where he came to faith in Christ as a child. He started his ministry as a VBS teacher at the age of 13. He has been involved in children ministry since then as Sunday school teacher, Awana teacher, VBS teacher and director. Harold and his family migrated to the U.S. in 2003. He taught in Las Cruces, NM for 6 years before moving to Las Vegas, NV in 2009. He is currently employed as a high school Math teacher in CCSD. Harold became a member of The Stream in January, 2010. It is his true personal desire to love and care for God's people, knowing fully that it was the Holy Spirit who placed him as an overseer in the church. Harold is married to Regina and they've been blessed with two wonderful sons, Hareign Dave and Harl Jabez.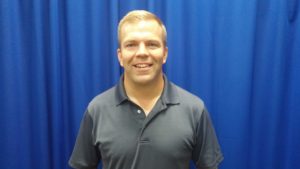 Mike Nielsen – Elder
Mike is an active duty Air Force officer originally from Colorado He was raised in the Church, and by God's grace he has been growing in his faith ever since. He and his wife Nicole were married in 2001 and they have two children, Jackson and Evelyn. Over the years, Mike has served as a children's ministry teacher, VBS & AWANA leader, men's ministry leader, and oversees the Stream's house group Bible study ministry. Mike and Nicole have been active members of The Stream since 2015, serving in a number of capacities. In the Fall of 2016 he was elected by our membership to be an elder, and is presently a student with the Reformed Baptist Seminary.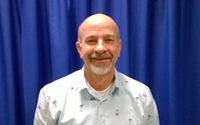 Scott Allison – Worship Director
Scott was born and raised in Southern California, but a job opportunity brought him and his family to Southern Nevada in 1992. He has been married to Alice, his high school sweet heart, for over 35 years. They have 3 children and five grandchildren. Scott loves family time, music, and the outdoors (camping, fishing, hiking). Scott began attending The Stream in 2011, but became a member officially in January 2013. He was attracted to The Stream because of the sound biblical teaching and the strong sense of community. Scott has always had a love for music. He started playing guitar at a very young age, but involvement in leading worship came many years later. God's timing is perfect though! Today, Scott considers it a privilege to play a small part in fulfilling The Stream's Mission Statement of "Transforming lives by the power of God's Spirit, love, grace, and truth."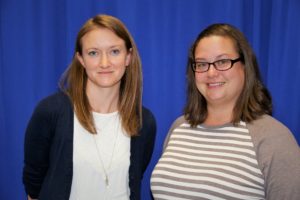 Nicole Nielsen – Kids' Creek Director (left in photo)
Originally from Colorado, Nicole has been a member of The Stream since 2015. She and her husband Mike were married in 2001 and have 2 kids. Over the years she has served in a variety of women's and children's ministries, becoming Kids' Creek Director in the spring of 2017.
Nicole Powers – Kids' Creek Asst. Director (right in photo)
Nicole Powers, and her family have lived in Las Vegas (Henderson) for a little over 2 years now. They found The Stream and fell in love with all the people at the church. Pastor Kevin baptized Nicole and her husband Donny in the Pacific Ocean during the church's annual camping trip to California. Nicole and Donny became members of The Stream and Nicole now serves as the assistant director for Kids' Creek. Donny and Nicole were married in 2004, are high school sweethearts, and will be together for 20 years in 2018. By the grace of GOD and a infertility doctor they welcomed their daughter in 2011 and their son followed in 2013.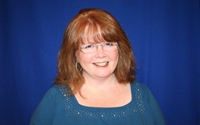 Carol Stewart – S.W.i.M. – Stream Women in Ministry – Women's Ministry
Carol Stewart has been at The Stream since the fall of 2008. She has been married to Todd for more than 20 years, has a son in college and a daughter in high school, and previously served as our Kids' Creek director from 2010-2017.
Carol is a 1990 graduate of UNLV in Accounting and worked in that field for about a decade.
Her gifts are in leadership and administration, and one of her passions is teaching the Inductive Bible Study Method. Carol is involved in women's ministries, particularly in leading our women's house group.
Her interests and hobbies include time with her family, snow skiing, photography, reading, white water rafting, jazzercise, and volunteering at The Stream and at her children's school Lake Mead Christian Academy (LMCA).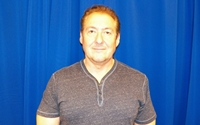 Todd Stewart – Financial Team
Todd and Carol Stewart and their family have been at The Stream since the fall of 2008. Todd has been serving on our financial team since 2013. He has training and a background as a C.P.A. (Certified Public Accountant) and works as a financial officer. Todd enjoys family time, reading, and can often be found getting in a good workout during his free time.
Ron Ecklund – Men's Ministry
Susie and I have been married for 47 years. We have three boys. Two live in the area, and one is in Tahoe. I retired from the field of accounting and finance in 2005. My interests are varied, but it is safe to say that I "putter." Projects of all kinds are my forte. Although I am kind of a "jack of all trades, and a master of none," I take pleasure in my small endeavors.
I am drawn to men's ministry for two reasons. One: I have long felt that men tend to isolate themselves and limit their contacts to those related to their work. We do not seek relationships that will challenge our choices and hold us accountable. Two: I have learned the meaning of and the importance of "discipleship" as I have grown in my sanctification process. I am borrowing from our purpose as stated on the Stream web site, Mathew 28:18-20, "All authority in heaven and on earth has been given to me. Go therefore and make disciples of all nations, baptizing them in the name of the Father and of the Son and of the Holy Spirit, teaching them to observe all that I commanded you. And behold, I am with you always, to the end of the age." (ESV) It is my hope and prayer that out of the group that I host will follow men who disciple other men in Christ's word.