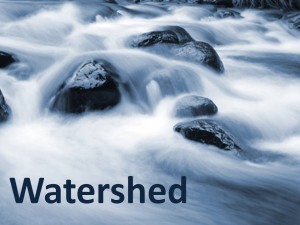 The Stream has a biblical philosophy of ministry, a transformation and discipleship process we call
Watershed. At The Stream, we believe God wants you and me to grow in a relationship with Jesus Christ – for our lives to be transformed. He also wants us to help others in this process as well. We make Watershed available to everyone at The Stream to help them in the process of being transformed by the power of God's Spirit, love, grace, and truth. It is a relational spiritual formation/discipleship process that begins with understanding God, what it means to grow and live in a relationship with him and with other believers, then progresses into learning how to minister to others – all the way to leadership training and practice.
To get started, participants simply notify us of their interest in doing Watershed, we e-mail you the free materials, and you start working on the program at your own pace (almost like a self-study/independent study program, but we encourage you to either go through the material with someone else or meet to talk about what you're learning with one or more other people).
Watershed has four stages:
Stage I: Devotion helps us to understand God, the Bible, what it means to be a Christian, and covers several of The Stream's values, which we call Streams of Water.
Stage II: Connection helps us to understand more about God and ourselves, healthy relationships, and how to overcome relational conflicts and problems.
Stage III: Equipping helps us to become more equipped with skills and experiences to help others grow and be transformed. We learn how to minister to and serve others.
Stage IV: Sending provides ongoing spiritual formation and ministry leadership skills that are uniquely tailored to the participant's gifts, interests, and calling.
At The Stream we believe that we all need to grow in our relationship with God and we have a plan to help people to grow and be transformed. We utilize our Watershed program to intentionally pursue the spiritual formation God desires to take place in our lives!